ABOUT PORTICO
Portico Homeowners Association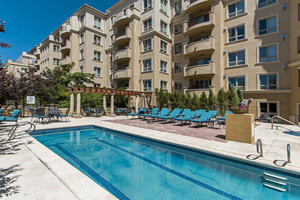 Portico Homeowners Association is a non-profit organization dedicated to improving and maintaining the common areas of Portico as a Class A building in an economically responsible manner that provides a high-quality lifestyle and fosters a sense of community among its residents .
Portico Condominiums consists of 106 condo units within a six-story building located adjacent to Cherry Creek and the Cherry Creek shopping district in central Denver. The outdoor facilities of Portico include a lap pool, hot tub and wading pool with a pool deck and outdoor barbeque grill. Inside the building are a dry sauna and a steam sauna, next to a changing room and massage room. The fitness room contains up-to-date exercise equipment. Owners may reserve use of the guest room for overnight guests. Owners may also schedule use of the social room for gatherings of family and friends.
Portico has a heated underground garage for use by residents and nine aboveground parking spaces for guests, plus two handicap parking spaces for guests.
Each year at the annual meeting of owners, the owners elect members to our Executive Board. The Board executes the responsibilities of Portico Homeowners Association to maintain and operate the common elements of Portico and to conduct its legal and financial affairs. The Board establishes standards and policies to be carried out by our professional HOA management team.
The HOA employs a small but excellent staff to perform the Association's responsibilities. Their jobs are to maintain the common areas and conduct the Association's business. We treat them respectfully for the good care they provide to all of us collectively.
Owners who want to have conceirge services or need maintenance work performed within their individual condo units are able to hire other persons of their choice for these purposes. The Association maintains a list of service providers.
Portico residents take pride in being part of a friendly and inviting community of persons who enjoy the Cherry Creek lifestyle. We realize that living in a condo building in close proximity with our neighbors requires being respectful of them. We are careful to:
• Adhere to Portico's limitations on pets.
• Seek prior approval from the HOA of any leases of our unit.
• Park our vehicles in designated spaces.
• Limit the noise we make.
• Follow the various rules that make Portico a pleasant home for all of us.